Our handy guide is a tool to help you chose the right mattress for your needs.
Firmness and comfort are among the top considerations Irish Shoppers have when it comes to mattress preference. But they can be quite subjective assessments so we have a handy mattress firmness guide which although not a scientific tool, serves to help understand the relative firmness across our Kaymed mattress range. We recommend trying out the mattress in store first so you're sure it's the right one for you personally.
The Sleep Foundation suggest that there is a link between body weight and firmness. That a lighter body will benefit from the pressure-relief provided by softer mattresses and that a heavy body will benefit from the shape keeping support of a firm mattress. There are no studies to support this explicitly so we believe that it is most important to test your mattress in-store before you buy.
Kaymed mattress range is broken into 5 Firmness categories.
1 = Soft
2 = Medium Soft
3 = Medium
4 = Firm
5 = Extra Firm
Comfort is very personal, you only know it when you feel it. Comfort relates both to the overall feel of the mattress and also to the surface layers or the top sleep-surface of the mattress. Kaymed handmake a range of five types of mattress to offer a rounded choice. Knowing the basics about each of these types can serve to assist you.
An Open-Coil Spring mattress is a traditional spring support system that remains popular, especially with those who prefer the firmest levels of support. Open-Coil Springs are interconnected and help to provide firm feeling, long lasting support. The Kaymed Open-Coil Spring system, and some Kaymed pocketed-coil systems come with the endorsement of the International Chiropractors Association (ICA).
A Pocket Spring mattress has a steel spring-based support system contained in Independent individual calico pockets. Kaymed pocket springs are designed for both hotel and home use and specially torqued to support your body evenly, reduce partner motion disturbance, and stay in shape for longer. Pocket spring mattresses appeal to those who like some extra give in the mattress and they help to reduce unwanted roll-together.
A modern comfort material that conforms to your body shape to relieve pressure. This is generally combined with a pocket spring interior for a hybrid mattress. Quality high-density Memory foam helps to maintain your body in healthy alignment and provides motion isolation – ie you don't move or turn as much in bed – some describe as a sinking-in feeling. Our Memory Foam is open-celled breathable, so it does not contribute to sleeping warm and is high density, which provides more pressure relieving comfort than low density Memory Foam. We manufacture our own Memory Foam in Ireland which provides further assurances as to quality, safety and comfort.
A natural blend mattress uses filling found in nature— such as wool, silk, cashmere and cotton. These layers provide natural benefits such as cooling effect in Summer and warming effect in Winter. The fillings are associated with premium quality and luxury comfort, ideal for the master bedroom or those prepared to invest in the best. They are combined with high coil count pocket spring systems typically over 2000 springs inside the mattress.
A mattress which does not feature a spring-system but is made entirely from foam. The construction usually features high-density support base foam to act as a foundation layer (typically 15cm to 20cm deep) – the type of foam which is found in contract seating or upholstered seating. On top is placed a technology material such as high-density memory foam or gel-memory foam combination (typically 5 to 10cm deep). Sometimes latex is used instead. This top layer provides the comfort and in the case of memory foam or gel-memory it also provides body moulding and pressure-relief properties.
Studies show that our sleep and wellbeing are linked. The benefits of better quality sleep surfaces will be enjoyed over many years and we believe that a spend on a new mattress is an investment, not a cost – an investment in your health and well-being. Investing €1500 in a quality bed set (mattress and support base) is equivalent to investing 40 cent per night, over the typical 10 year life span.
A quality mattress has entry prices of around €700 for a double size (4'6" wide) and most premium mattresses are priced at €1,000 and above. A useful rule of thumb is to invest more in a mattress that is going to be used every night either by adults or children. And remember that growing young bodies need proper support too so it is better to avoid hand me down mattresses. A mattress in a spare room or guest room used infrequently may not require the same level of investment.
As a guide, our website categorises each product as either Value, Mid or Premium price.
Personal health issues should always be advised on by your physician. Back pain is a common complaint and some people associate back pain with their old or used mattress. But there are a myriad of different types of back issues manifesting with different symptoms and so no one size or type mattress fits all. While a mattress is not a medical device, evidence from studies identify a link between a quality new mattress and reduced back pain. The new mattress cannot necessarily cure or fix long term back issues, but it can significantly help in alleviating some of the symptoms as well as bringing relief and comfort to many.
A US study comparing sleep experience on a new mattress compared with mattresses five years and older found that participants with high back pain reported a 63% improvement in their discomfort on their new mattress (Subjective Rating of Perceived Back Pain, Stiffness and Sleep Quality Following Introduction of Medium-Firm Bedding Systems, researchers Bert Jacobson, EdD, Tia Wallace, MS, and Hugh Gemmell, DC, EdD of Oklahoma State University, (2007)).
82% of experts who treat back pain feel that the right bed can help prevent back pain. Survey of over 900 back pain sufferers and nearly 500 back pain experts jointly conducted by BackCare, the charity for healthier backs and The Sleep Council (2001).
Some people will find more comfort in a softer mattress as it conforms to their body shape, relieves pressure and can help maintain a healthy spinal alignment while others prefer the firm support, which tends to prevent sagging which can distort the spinal alignment. Mattresses are not medical devices and the best way to choose the right mattress is to test in-store before you buy.
Some people sleep warmer than others, this tends to be influenced by personal physiology, body shape and weight, stage in life, and external or environmental factors. There are mattress options available today that target temperature-control through modern fillings inside the mattress. Look out for Gel-infused or Gel-memory mattresses, and breathable fillings (either natural or made from highly breathable memory foam) if you tend to over-heat at night. Bedroom set up is also important, de-tog, use cotton linen and cool the bedroom before going to sleep. Airing the mattress regularly is also recommended.
Do allow that it will take a little time get used to the feel of your new mattress and to break it in properly. It's a bit like getting used to a new pair of leather shoes so don't judge it on the basis of one or two nights And there can be a few minor aches and pains in the first couple of week to begin with. For many people they adjust very quickly for some it can take between 4 and 6 weeks – this is particularly so when you're moving to a different mattress type of specification to that you've been used to. Remember also that new mattresses are made brand new and fresh to order so they feel a little more rigid at the start until fully broken in. This is perfectly normal.
Mattress – Safety & Sustainability
Through our choices and actions, we can all look after the future of our community and planet. Choosing products that are produced locally and sustainably helps. At Kaymed we are continually improving to play our part:
Kaymed  mattresses are made safely in Kildare to Irish & European furniture regulations
Kaymed mattresses meet the highest fire ignition safety standards in Europe
Kaymed foams are CertiPur™ accredited for safety and absence of harmful compounds
Kaymed is making changes everywhere in our business to become more environmentally responsible and sustainable:
We measure our carbon footprint and commit to reducing it
We will make plant changes to lower our carbon footprint from plant lighting by 60% in 2021
We evolve our Foam production continually and have added a greener Foam to our range in 2020
We use repurposed materials instead of new where possible, all our fibre is made from 100% recycled material
We recycle all Spring paper packaging and we repurpose our used pallets into wood chippings
We package our mattresses in recyclable plastic
We contribute to the Green Dot recycling and waste management programme in Ireland
We are 100% locally made in Kildare and Dublin, so our products have a lower carbon footprint than imported mattresses.
We help to ensure that used mattresses are disposed of properly in a responsible manner to reduce impact on the environment.
To complete your purchase, consider an Irish made divan base and headboard. These additions can transform the comfort of your sleep and style of your bedroom. Our range comes with a choice of stylish colour fabrics to compliment any colour scheme.
Fit a mattress protector to guard against odour, moisture and dust mite allergens. Chose a new pillow from the Kaymed range to improve support and comfort for your head and neck. Note that Kaymed mattresses are quite deep due to the quality of the materials used inside, but extra deep sheets and deep gusset mattress protectors are very common and will compliment the new mattress perfectly.
Your new Kaymed mattress will provide years of comfortable support, for best performance replace your mattress every 8 to 10 years.
It is vital to support your mattress on a new matching divan base or other suitable foundation, particularly with heavy mattresses. Unsuitable or old bases can compromise the support levels of the mattress and potentially invalidate the mattress warranty.
There are 4 different types of foundation recommended way to choose the right mattress is to test in-store before you buy.
Platform cushion-top Divan Base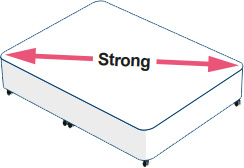 The most common style of base designed to provide the mattress with stable even support. Cushion-top ensures the mattress has a slight degree of give. Typically the base rests on heavy duty support castors which move easily or glides.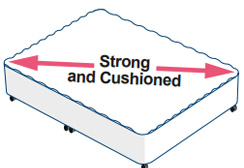 The base is fully sprung and is designed to complement luxury mattresses typically those with high pocket spring counts and natural blend fillings. The spring in the base ensures extra give and the overall effect is a softer feel.
Reinforced platform-top Base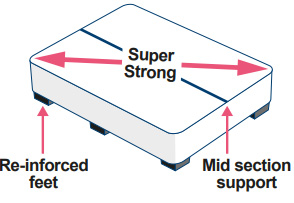 Designed to provide extra support for heavy, high specification mattresses. Sturdy feet on each corner and in the mid-section absorb, spread and displace weight evenly to provide support and long life.
Slatted bedframes / bedsteads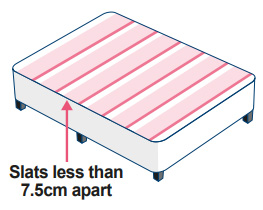 Kaymed mattresses can be placed on bedframes/bedsteads (excluding Extended Life models). Slats must be thick, with a maximum gap spacing of 7.5cm and with centre middle support and/or two support legs underneath.
Storage Bases and Ottoman storage Bases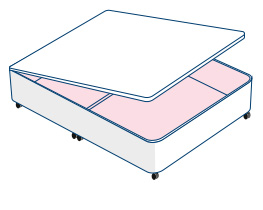 Divan base with drawers inside are a handy option extra storage is needed. Choose from 2 drawer option or 4 drawer option but be careful not to overload the drawers. An Ottoman storage base allows the full expanse of the base to be
used for storage when the lid of the base is lifted. Note the Ottoman base is much heavier than regular storage base.
The following are the standard sizes that apply in Ireland and the UK and their nearest metric equivalent for mattresses and divan bases:
3'0" x 6'3"
(90 x 190cm appx)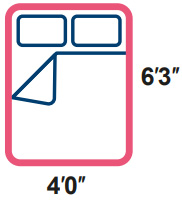 4'0" x 6'3"
(120 x 190cm appx)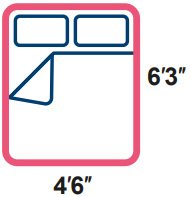 4'6" x 6'3"
(135 x 190cm appx)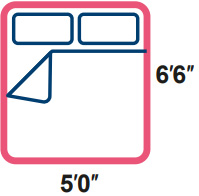 5'0" x 6'6"
(150 x 200cm appx)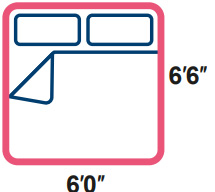 6'0" x 6'6"
(180 x 200cm appx)
*Zip and Link option is available on some Super-King models – each individual mattress and base measures 3'0" wide x 6'6" long and the zips join them together to make one large Super-King Z/L Bed Set. This allows for ease of access where space is tighter.
If you have been used to a standard double bed then perhaps trade up to a King size or even a Super-King size for your next purchase – the extra width and length in terms of space will be well worth it.
Allow for a degree of tolerance in mattress measurements – plus/minus 1" (3cm) either way as they are handmade. Take particular note when the mattress is going on a slatted bedframe.
THE NATIONAL BED FEDERATION (NBF) RECOMMENDS THAT BEDS, MATTRESS AND BASE, BE REPLACED AFTER 8-10 YEARS.